How to protect temperature sensitive goods in transit – The Packaging Doctor
When it comes to chilled packaging goods and temperature sensitive products, we know it can be difficult to maintain an in-the-box temperature. Getting goods from A to B in a temperature controlled environment can be handled effectively with our effective range of insulated packaging. Let's see how the packaging doctor can assist with today's query…
Dear Doctor,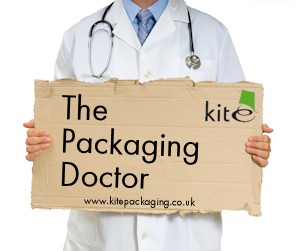 I'm looking at sending probiotics in glass bottles which need to stay under 8 degrees to keep them fresh and fit for purpose for our customers. From the time we despatch our packages, it takes between 24 and 48 hours so we need something that stays cool for that time window. Can you help?
Many thanks,
Phoebe
Hi Phoebe,
Thanks for getting in touch with the Packaging Doctor today, let's see what Kite products can help you.
The first product we recommend for external protection and temperature control is our enviro-friendly insulated boxes. Produced from recyclable starch and paper, our insulated box is 100% curbside recyclable and enables customers to maintain a constant temperature for at least 48 hours. Its insulative properties outperform polystyrene, with the outer layer being produced from 100% recyclable Kraft and the inside being 100% biodegradable starch-based loose fill that not only preserves the internal temperature but also provides inner protection.
Next, in order to divide and segment the bottles to stop them from coming into contact with one another, we advise our universal cardboard dividers. With easy tear perforarations, you can slot and customise what particular size and layout you need for your bottles, ensuring they are separated and not touching through transit.
Another product that will help keep your packages cool is our ice packs. There are two types of packs to choose from that can maintain an internal temperature on the road – our gel packs and ice sheets.
Lastly, if you need to be extra thorough and cautious in ensuring a maintained temperature, you can look at putting a temperature indicator inside your packages. Temperature indicators are small self-adhesive labels that are placed inside chilled packaging. They monitor the temperature throughout a specified time period and indicate when a maximum threshold has been breached and if so for how long the contents have been above the specified threshold temperature. We recommend our 48 hour temperature indicator which will inform you of any breached temperature over 8 degrees.
Best wishes,
The Packaging Doctor
Note: All the packaging problems our doctor receives are real queries from customers or non-customers. If you have a packaging problem that needs diagnosing get in touch: Twitter @kitepackaging or email packagingdoctor@kitepackaging.co.uk