Enviro-friendly insulated boxes
Transporting food & drink, pharmaceuticals and temperature sensitive goods can prove extremely challenging due to the contents needing to stay at a certain temperature to ensure they remain fit for purpose. With businesses now looking more than ever to environmentally friendly packaging options, we launched the enviro-friendly insulated box making it the ideal insulated shipping box. Produced from recyclable starch and paper, our insulated box is 100% curbside recyclable and enables customers to maintain a constant temperature for at least 48 hours making it the ideal solution for temperature sensitive goods, food & drink and pharmaceuticals industries.
Produced from materials with insulative properties that outperform polystyrene, the outer layer is produced from 100% recyclable Kraft, which is good for the environment, teamed with 100% biodegradable starch-based loose fill that not only preserves the internal temperature but also provides inner protection.
The enviro-friendly box liner arrives flat packed reducing transport costs, fuel emissions and freeing up valuable storage space. This also makes it far easier for the end-user to dispose of. The material is truly sustainable having passed the American Society for Testing and Materials for biodegradability, gained certification from the Sustainable Packaging Coalition and Western Michigan University for recycling and repulpability.
The below graph shows the performance of the same sized polystyrene box and enviro-friendly insulated box over 30 hours, while the internal temperature of the polystyrene box exceeds 5°c the enviro-friendly box remains well below.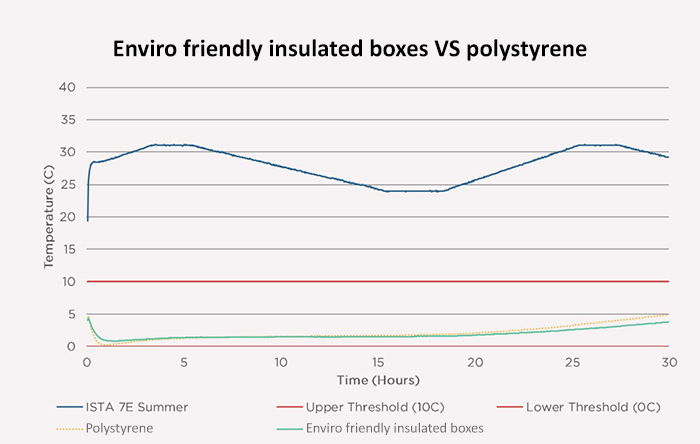 | | | |
| --- | --- | --- |
| | Polystyrene | Enviro-friendly |
| Bio-based and renewable material content | 0% | 98% |
| Rapidly renewable (harvest cycle under 10 years) | 0% | 90% |
| Home compostable | 0% | 90% |
| Recycled content | 0% | 10-15% |
| Raw material source | Petroleum | Plant based |
| Energy during production (MJ / kg) | 45.75 | 1.1 |
| Carbon during production (CO2E / kg) | 3.6325 | 0.2217 |
Video:
Enviro-friendly insulated boxes
How to construct and use our insulated boxes
Our 48-hour enviro-friendly insulated boxes arrive in 3 parts that comprise of two 100% curbside recyclable and biodegradable starch and paper liners and a box.
Simply insert one liner to firstly create the base, side and lid of the insulation and then the second as the surrounding walls. This produces a 48-hour insulated environment ready for goods to be inserted inside.
Once constructed, simply place the product inside the box, fold the lid and tape the carton. These boxes can also be teamed with our ice sheet range.
Environmentally friendly insulated boxes are designed to keep temperature sensitive goods at a constant temperature for 48 hours. Popular in industries such as food, drink and pharmaceuticals, they can be used with a range of products.