Kite Let Loose With 'Envirofill'
The polystyrene debate continues...
An on-going debate in the packaging industry is how to package food in a more environmentally friendly way whilst maintaining hygiene standards. Polystyrene (or Styrofoam) is one material that has been heavily criticised in its traditional form, and critics have long argued about whether or not it would make sense to simply ban it.
In the US the debate was heightened in 2010 when Seattle banned polystyrene food containers from its streets. There was a concern that restaurants may use hard plastics to replace the polystyrene containers, which are equally as bad for the environment. The city's solution was to ensure that they had the facilities to recycle hard plastics, and add a provision to the ban that said that all take-out food containers must be either recyclable or compostable.
New York's Mayor Bloomberg is planning the same ban for his city. Environmental director Eric Goldstein said of the move, "It costs taxpayers $300 million a year to export waste to out of state landfills, and if we can reduce those costs by recycling more, then taxpayers in New York will save money on every ton of waste that is composted or recycled." Additionally, it costs the city millions to separate polystyrene from other recyclable materials, making recycling a less viable option.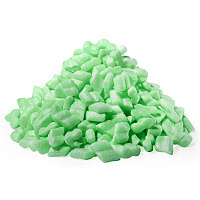 As food businesses in these cities are being urged to do there bit for the environment, affordable alternatives still need to be sought to both polystyrene and the hard plastic containers it is often replaced with. Cheaper alternatives such as paper or cardboard wrappings offer less protection, meaning more layers of packaging are required which just leads to more waste.
Green alternatives
At Kite we have already considered how polystyrene foam may one day be replaced, and are proud to be able to offer alternatives to traditional polystyrene packaging materials.
For example, our loose fill chips (also known as packing peanuts) are both fully recyclable and degradable. They are also manufactured from recycled material, which comes from old CDs and other waste plastics. Known as Envirofill, this environmentally friendly alternative offers as much protection as traditional polystyrene loose fill and is also hygienic and antistatic.
Maybe you'd like to go a step further and cut our polystyrene altogether? You can upgrade from loose fill to a more advanced void fill packaging solution such as air cushions or Instapak expanding foam. Both options offer superior protection for your products without the mess and storage requirements of loose fill chips.
As we wait to see if the UK government decide to implement such a ban over here, customers can be reassured that Kite already have a solution!