Packaging For Radiators and Plumbing Equipment – The Packaging Doctor
I'm back again for another round of packaging advice to give out to a patient in need. Often, some of the most difficult items to pack are large and industrial products that are not typically thought of in terms of packaging needs until the last stages. Technical details, proper certification, testing and materials sourcing are the highest of priorities for industrial items and therefore packaging often gets left behind. Kite understands that packaging often gets ordered in a hurry, that's why we offer next day delivery and have a friendly team of staff to help should you need packaging advice.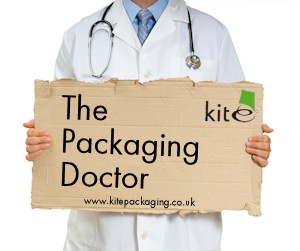 We understand our products better than anyone and make sure they are of the best quality; our testing methods are sometimes very creative. As you can see by our tape test video that has just launched on Facebook, taping human volunteers to metal poles is just one of the many ways we ensure our products are good value and high performance!
Now on to the patient, who came to the surgery looking for a packaging solution for some industrial products, take a look at how we helped them out.
Dear Doctor,
I recently started my own business, selling plumbing parts and hardware to tradesmen in my local area. It's currently going well and I'm generating a lot of new business and contacts. However the radiators I send out on a regular basis are constantly being returned due to damage – I use brown paper currently to wrap them up but obviously that doesn't provide much cushioning protection.
Can you suggest something better?
Thanks,
Greg
Hi Greg,
Great to hear that you have set up a successful trade business, it's great to support local tradesmen and become a go-to wholesaler for their needs.
Radiators although industrial and large are very easy to damage due to the flexible metal material they are made from which can easily dent and scratch – not a great first impression if you are a plumber fitting a brand new heating system!  Brown paper is good for preventing surface damage due to its tear resistance but as you mentioned doesn't offer the cushioning protection fragile products need.
The most suitable item for you to use would be a box, as the sturdy cardboard is perfect for protecting against dents and damage, however because radiators are flat, large objects it is often hard to find a suitable box for them. Luckily for you we supply some telescopic picture frame boxes for artwork, which is also large, flat and wide! Our extra-large size should be perfect for your radiators, with dimensions of 800 X 90 X 1000mm and the telescopic closing design ensures a snug fit – ideal when your product is being handled regularly. For extra protection I would recommend wrapping the radiator in bubble wrap first, however the double-wall strength of the picture frame boxes should be more than enough protection.
Keep warm and carry on,
The Packaging Doctor
Note: All the packaging problems our doctor receives are real queries from customers or non-customers.
If you have a packaging problem that needs diagnosing get in touch on Twitter @kitepackaging or email packagingdoctor@kitepackaging.co.uk