Presentation Packaging For Small Gifts – The Packaging Doctor
The Surgery Is Now Open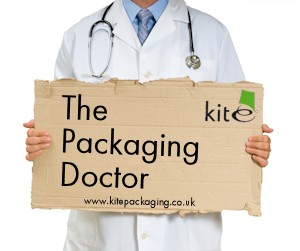 Hi Doctor,
I own a healing business, which focuses on ancient Arabic teachings and healing processes. Since starting the business from scratch I've built up an impressive client base and want to reward my top customers with a small gift. The gift will be a healing CD which will have some of the readings on it or a bottle of perfume which is to be used in rituals to cleanse the soul.
Because these are V.I.P customers, I need the product to be well protected and presented but not expensively.
Can you help?
Regards, Sahed
Hi Sahed,
It's great to hear how well your business is doing and rewarding your best customers is a brilliant way of marketing to a targeted demographic. The key problem that you have here is that both items that you want to package are fairly breakable, and therefore packaging them together has some problems especially if they start clashing together in transit.
In terms of a box for your perfume I would choose something fairly small to ensure that the objects don't move around too much. A good option would be a 'postal box' box, these are great as they quickly form the box shape and are easy to assemble. They also look professional thanks to the white Kraft outer layer. This range includes sizes designed specifically for CDs and DVDs, offering the best protection and with a peel and seal strip for easy packing.
To properly protect the perfume from vibration in transit I would wrap both in a layer of bubble wrap, or alternatively insert an air cushion into the box as well to act as a block and brace tool. To finish, it would be highly recommended securing all the box flaps in place using 'FRAGILE' printed tape; this contains a strong adhesive so that the product remains completely secure and the wording reminds couriers the handle the item with care.
Best Wishes, The Packaging Doctor

Note: All the packaging problems our doctor receives are real queries from customers or non-customers.
If you have a packaging problem that needs diagnosing
get in touch on Twitter @kitepackaging
or email packagingdoctor@kitepackaging.co.uk