Packaging for the aerospace industry
Packaging for the Aerospace Industry

The aerospace industry has very different packaging needs due to the often dangerous and high value of the parts they need to package and protect. Often aerospace products cannot be packaged using stock product, and require highly experienced packaging technologists to come up with high quality solutions and technical drawings. The industry also has its own specific standards to adhere to such as ATA300, Rolls Royce, A59100, AD5 and much more, all of which Kite can help with.
We can also offer the required bespoke service package for the aerospace industry from our extensive offering.
These include:
UN Specification – Because the aerospace industry often carries hazardous goods, much of its packaging requires UN or MOD certification. Kite's packaging technologists can guide you through this often complicated process quickly and efficiently
Direct Line Feed – Delivery to the site but also bringing individual materials / products line-side to the point of use
Technical Expertise – Using top of the range CAD technology, our packaging technologists can design packs to fit any sized product with the suitable elements to ensure it is protected in the best way possible
Full Testing Service – Our experts are trained to test new packaging solutions from every angle, to ensure the product is fit for purpose
For further details of these offerings go to service.
Product offering
Kite provides the aerospace industry with several different packaging solutions to protect goods along the supply chain and ensure a smooth flow of service.
These include:
Blister packs
Flight cases
Skin packaging
Heavy duty composite packs
Timber cases
Shadow boards
Engineered foam solutions
Films
UN and MoD cartons
Aerospace case study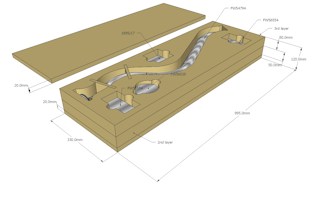 Project brief
Kite approached a multi-billion dollar global organisation, who specialise in several industries including aerospace. The group, who supply parts for the final system on many of the world's aircraft, both for commercial and military use, asked Kite to design a pack around a shadow board concept. This was required to ensure that all the parts are used in the final assembly process and nothing is misplaced or forgotten. Shadow boards are becoming more common place in the aerospace industry, as they reduce the risk of parts being lost and ensure engineers are more accountable for any malfunctions.
Design and development
The part that the shadow pack was created for was produced in low volumes; however each individual item had an incredibly high value attached to it. Therefore the pack was created to ensure the closest fit possible for maximum protection, and manufactured from high quality materials. Because of the lucrativeness of the part and the project. the team worked on the design without a sample, creating a CAD design from the original technical drawings and provided measurements.
The solution Kite developed was a rigid foam die cut design consisting of several layers to enhance protection and deep cut-outs for the parts to sit in. These spaces created a natural shadow so that engineers could see which parts were missing.
Testing
Once the pack was produced the part could be fitted inside and prepared for testing. Kite conducted a full fit, form and function test to ensure that each element of the part was fully protected by the packaging, and that it could be easily removed and placed back inside for practical implementation. A full drop test was also conducted to measure whether the product would survive handling and any possible movement in transit.
Result
The product passed all of the tests and the customer implemented the new design for its parts, Kite has been trading with this customer now for over eight years and continues to produce packaging solutions for its high value products.