Packaging for the automotive industry
Packaging for the automotive industry

At Kite we have developed our bespoke offering to ensure all types of packaging for the automotive and engineering industry are provided. The automotive industry uses a wide-range of packaging materials, and our team has made sure that key problems faced by this sector have been given a solution in terms of protecting delicate parts, preventing static damage and protecting metal elements from corrosion and rust.
We can also offer the required bespoke service package for the automotive industry from our extensive offering.
These include:
Kan-Ban – When each packaging product reaches a re-order level Kite will organise immediate replenishment
Direct Line Feed – Delivery to the site but also bringing individual materials / products line-side to the point of use
Just-in-Time - Allows customers to de-stock, reduce inventory on site and free up space, whilst Kite holds carefully managed 'buffer' stocks of the customer's unique packaging
Consignment Stock - Allows customers with free space the option to store packaging at their own premises and draw from this 'buffer' stock on a daily basis as required
Full drop-testing service
For further details of these offerings go to Service.
Product offering
Kite provides the automotive industry with several different packaging solutions to protect goods along the supply chain and ensure a smooth flow of service.
These include:
Anti-Corrosive Products
Anti-Rust Products
Transit Cases
Protective Packaging
Dangerous Goods Packaging and the facilities to provide UN approval for these packaging products
Automotive case study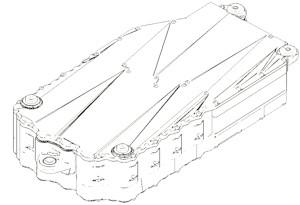 Project brief
Kite Packaging were approached by a manufacturer of high performance engines and asked to design and produce a UN specification pack to protect and transport a delicate battery part and its components.
Kite's role was to liaise with the Packaging Institute Research Association (PIRA), the Vehicle Certification Agency (VCA) and Dangerous Goods Office (DGO) with regards to correct certification, and design, test and approve a suitable packaging medium for the part that would ensure safe transit to where it was needed.
Design and development
Kite had previously liaised with PIRA, VCA and DGO which made the negotiation process much easier and efficient. We always ensure we have the best business relationships with service providers and governing bodies in our industry to ensure the customer is well-informed of packaging procedures and can move products quickly through the process.
Based upon VCA recommendations and Kite's own expertise, it was decided the product would be packed in a UN approved metal drum (with the necessary fire retardant) and Zote foam internal packaging, which was profiled (cut out) to the parts exact measurements. This solution fulfilled the requirements of the VCA and DGO who stated that
"Batteries must be transported in an outer packaging that is a metal, plastic or plywood drum or a metal, plastic or wooden box and that meets the criteria for Packing Group I packaging (UN requirement) and each cell and battery must be individually packed in an inner packaging inside an outer packaging and surrounded by cushioning material that is non-combustible, and non-conductive."
Testing
The packaging was tested using the PIRA advice to use at least 5 samples (one which would have an inert battery in and the other four which would be empty). From that, three types of tests were carried out including a 1.8m drop test (dropped 9 times), 3m high stack test (left for 24 hours to detect creep or collapse) and an internal volume tests.
After passing the tests the drums were labelled as per UN specification standards, requiring new UN number labelling on the metal drums and three other labels including 'miscellaneous', 'this way up' and 'do not load on to passenger aircraft'.
Result and feedback
The project was completed on time and to the brief, so that the customer could transport and protect the part in the best possible way.