U-tulip foam edge protection
Manufactured using low-density polyethylene that has unique properties to ensure it is extremely flexible, whilst still maintaining a tight grip on edges. One of the most popular types of edge protection, particularly in the furniture and framing industry, it is economical, easy and quick to handle, and flexible.
These U-tulip shaped foam profiles have been developed to efficiently protect the most sensitive parts of the product - the edges. Thanks to the hugging design of its lips, the U-tulip grips the edges automatically, and protects against knocks, scrapes and scratches.
*Please note that our U-tulip foam protection is not fire-rated.
There are eight different sizes to choose from in Kite's range, to accommodate really narrow and much wider edges. Supplied in lengths of two metres as standard; however, it can easily be cut to specific requirements.
This foam offers a range of additional benefits which are essential when packaging large fragile items such as furniture, glass, picture frames and metal sheeting. It is shock-absorbent, water-resistant, doesn't scratch or damage smooth surfaces, and is temperature resistant (from -40C to +100C) - so is the perfect product for packaging goods for transit – particularly in various climates and atmospheres.
100% recyclable and chemically neutral, making it a more environmentally friendly way to package high-value products.
Dimensions
The range is defined by its useable dimensions (for example 5-15mm) which is measured according to its 'A' (widest) and 'B' (narrowest) opening. For example, when an edge is 16mm thick a 15-25 foam is needed, however, if an edge is 14mm thick a 5-15 foam is required.
The C dimension is the length of the profile sides. Dimension D is the thickness of the profile bottom.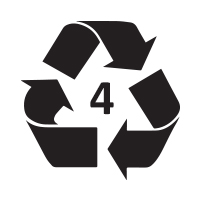 Click here for our recycling guide
Video:
U-tulip edge protection
See our range of u-tulip edge protection and how they can be used