Polyolefin shrink film
15 micron thick (60 gauge) polyolefin shrink film. Extremely high clarity and ideal for point-of-sale packaging.
Polyolefin shrink wrap is the number one choice of shrink wrap film across a wide range of industries due to its unique properties. Polyolefin shrink film contains no plasticisers nor chlorine, and releases fewer odours when sealed than PVC shrink wrap making it suitable for food use. Polyolefin shrink wrap not only boasts higher clarity than other shrink wrap films, it also creates a stronger seal and is not compromised by changes in temperature.
Buy your polyolefin shrink film rolls from us and seal your products with a professional finish. Used in conjunction with a desktop heat shrink system, polyolefin shrink wrap can be used to seal an array of products such as toys and games, food and stationery.
Shrinks quickly and evenly in all directions
Very high strength
Food safe
Environmentally friendly compared with PVC film
Can be processed through standard recycling systems
Our polyolefin shrink wrap is centre folded on the roll, making it easier to handle and store. Centre folded widths are mentioned in the table above - if you are buying a 700mm wide sheet it will be folded onto a 350mm wide roll. The core diameter of each roll is 76mm.
For polyolefin film to shrink wrap around your product, a suitable heat source must be applied. We recommend our desktop shrink systems for this.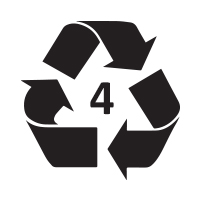 Click here for our recycling guide