Polyester strapping
One of the strongest plastic strapping products, polyester (PET) serves as a viable alternative to steel strapping in the brick, lumber and textile industries.
Polyester provides excellent retained tension to stay tight on rigid loads. It's excellent recovery properties help a load absorb impact without strap breakage. Our PET strapping stays tight on loads that settle, shrink or expand. Polyester strapping will withstand higher tensioning than other plastic strapping - up to 25% higher, with equivalent break strengths. It will retain tension on rigid loads better than other non-metallic strapping.
Ideal for semi-automatic machines, or hand use with a dispenser. PET strap ensures that it maintains sufficient retained tension, even in extreme conditions, and holds your products securely. It is lightweight, cannot be affected by corrosion or rust and is therefore the ideal material to replace steel strap. Use with polyester strapping seals and tools.
Our polyester strapping is wound onto a cardboard core, the diameter of this core measures 406 mm with the outside measuring 150 mm.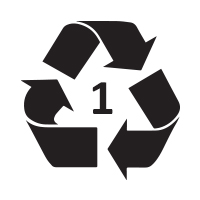 Click here for our recycling guide