Vacuum pouches
Our range of vacuum pouches are ideal for use with our range of vacuum machines. Simply place your product inside one of these specially designed bags and insert them into the vacuum machine. Vacuum packing is a method in which the air is removed from the package prior to sealing.
The vacuum bags, also referred to as barrier packaging, are suitable for perishables. Manufactured from a co-extruded nylon/polyethylene material (5 layer PA/PE) which has several benefits including good protection against oxygen in the air, which can cause damage to products such as food and delicate metal parts. Preventing oxygen from entering a vacuum pouch is essential when vacuum packing goods, as it stops bacteria from corroding a product. The bags also offer high clarity, ideal for displaying items in retail environments, and are resistant to cold temperatures so they won't release air when refrigerated. Vacuum pouches are the perfect solution when protecting products from dust, moisture and a variety of other external elements that may harm or damage.
Our vacuum pouches are 65 micron thick meaning the bags are burst-resistant and reliable, this is the industry standard thickness for vacuum packaging. They are available in a range of sizes to suit small and medium sized products – check the effective seal width or chamber size of your vacuum machine to see which bags are most suited to your operation.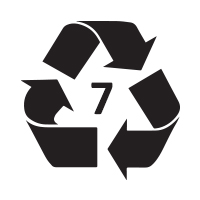 Click here for our recycling guide