How To Easily Customise Your Packaging – The Packaging Doctor
The Surgery Is Now Open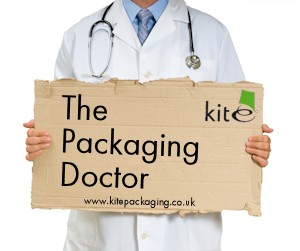 Hi Doctor,
I am writing on behalf of a client who creates pet supplements and for Christmas they are planning on gifting their products in wooden crates and so I am looking for a custom made stamp of their logo, which of course has to be of suitable material and colour so that when it's stamped on the wooden crates, the ink stays.
The Christmas gift package will probably be either A5 or A4 size, do you do anything like custom made stamps?
Warm Regards, Adrian
Hi Adrian,
Sounds like your client has got some really creative ides which is great to hear. Unfortunately we do not make custom-made stamps, however these may not be ideal for your application as they can often run if in contact with moisture and it is often difficult to produce a high quality logo on a wooden surface with this method.
With this in mind may I suggest our custom printed tape? You can have exactly the same logo repeated multiple times on tape and can then cut it to use it as professional looking labels, or use it to secure the box. The tape is highly adhesive and you can choose from polypropylene or PVC (vinyl) with short lead times so you can get your product out as quickly as possible.
If you haven't already sourced your wooden crates, ours are only available in large sizes for pallet application, and you may find that finding the ones you need becomes very expensive. Therefore, if you are looking for an alternative to these I would suggest something equally presentable such as white presentation boxes or if you are looking for something heavy-duty and natural looking, an extra heavy-duty cardboard box, is ideal for weighty goods.
Best Wishes, The Packaging Doctor

Note: All the packaging problems our doctor receives are real queries from customers or non-customers.
If you have a packaging problem that needs diagnosing
get in touch on Twitter @kitepackaging
or email packagingdoctor@kitepackaging.co.uk