Extra heavy duty boxes
Our strongest, sturdiest corrugated boxes are designed for heavy goods and providing maximum protection. When shipping or transporting heavy goods, items prone to damage in the supply chain or goods with a high value, it is vital that strong, reliable and robust outer protection is used. We have a wide range of sizes suitable for engineering equipment, automotive parts, electronics equipment, machined parts, hydraulic components and much, much more. Given the high value of the goods shipped using this type of cardboard box, it is important to have peace of mind; our extra heavy duty cardboard boxes will more than deliver on the promise of providing the right protection.
Our extra heavy duty cardboard boxes are manufactured to a high technical degree and have been added to our range following in-depth research and development. They have also been subjected to rigorous testing to ensure they are fit for the purpose of looking after your valuable or heavy items.
Popular with companies exporting goods aboard, our new heavy duty cartons are now a more popular choice for customers who previously favoured triple wall corrugated cartons as their method of packing. Made from heavyweight board and with strong fluting combinations, these extra heavy duty boxes are more cost-effective than triple wall cartons.
Rigorous testing procedures
For many customers purchasing these cartons it is vital to understand the specifics of their technical make-up and performance. The product table above summarises the key technical specifications and by clicking on the 'more info' tab you can access even more in-depth and relevant facts. These include important metrics about how these boxes perform:
Maximum load:
This is the maximum weight that the box can support without the sides buckling.
Edge Crush Test (ECT):
This measures the top to bottom compression strength of the board. It gives information on the ability of a particular board construction to resist crushing. A laboratory test method is carried out that measures the cross-directional crushing of a sample of corrugated board.
Box Compression Test (BCT):
This measures the compression resistance, shape change and stacking capability of the carton. The BCT of a corrugated box is the maximum force sustained by the box during compression and is an indication of the stacking resistance of the box during storage and transport.
Find both the internal and external measurements of each box by clicking the 'more info' button on the product table. The external dimensions for this type of box, with its typical applications, are vital for anyone using them to export out of the country. This is because the exact space the filled box will occupy is a key element for calculating the cost of export and is a key measurable for shipping companies.
If you need any further information on our extra heavy duty cardboard boxes, or any other items in our range our sales team are always happy to help.
Below is a diagram representing the flutes that our corrugated cardboard is manufactured with. Please click on the 'more info' tab in the product table to see which flute applies to your chosen size.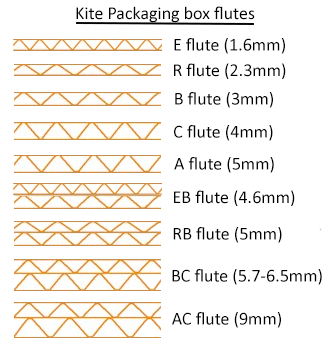 Video:
What type of box do I need?
Compare single wall, double wall, Enviro boxes and extra heavy duty boxes, discover which is best for your product
We sell various types of boxes, from standard duty single wall to extra heavy duty.
Single wall boxes are identified by the prefix 'CSW'.
Heavy duty Enviro-boxes have a clear 'Enviro' print on one of the flaps.
Double wall boxes have a code starting 'CDW'.
Extra heavy duty boxes are labelled XHD on one of the flaps
Our single wall boxes have a single layer of corrugated board. They are our best value option for packing lightweight goods. Enviro-boxes are made from a thicker and more rigid single wall board. These are suitable for slightly heavier goods. Double wall boxes have 2 layers of corrugated board, making them our strongest general-use boxes.
Extra heavy duty boxes are manufactured from extremely strong cardboard and are suitable for very weighty goods.