How to pack photo frames effectively – The Packaging Doctor
Packaging serves a great purpose, it protects the inside product from potential damage. But, it can serve more than one use. Packaging is a fantastic way to promote your business and get yourself known. From tape to tissue paper, you can personalise an array of packaging to make it represent your product. Today we meet Sandra who is looking for presentable and personalised packaging for her photo frames.
Dear Doctor,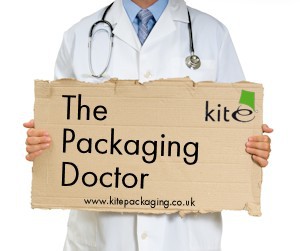 I send out photo frames in the post and at the moment I'm not happy with the outer packaging I wrap them in. They are often getting damaged and I want to show that my packages are from me, instead of just standard outer packaging that is non-descript. Can you help?
Many thanks,
Sandra
Hi Sandra,
Thank you for your question here in the surgery; certainly we can help you with your query.
Firstly, we would suggest using white postal boxes which are high quality and presentable. These boxes are easy to assemble and come in two styles; tuck in flap or folder wrap. Also depending on the size you order they meet the Royal Mail PiP 'large letter' or 'small parcel' criteria.
To protect the photo frames we recommend using wood wool which is a natural, bio-degradable void fill made from shredded timber. It is a light weight material which offers a high end and professional finish. Alternatively, if you wanted to add colour to the package, tissue paper would be the ideal solution. It is a delicate and light weight product that comes in a variety of colours.
To market your brand we would advise using custom printed kraft paper tape. With this tape you can print your brand name in colour (up to three different colours) on the tape. The custom printed tape gives a professional and aesthetically pleasing look, ideal for all businesses wanting to make an impression.
Best Wishes,
The Packaging Doctor
Note: All the packaging problems our doctor receives are real queries from customers or non-customers. If you have a packaging problem that needs diagnosing get in touch: Twitter @kitepackaging or email packagingdoctor@kitepackaging.co.uk