How to package glass frames – The Packaging Doctor
Many customers experience difficulties finding ideal packaging for large or uniquely shaped products. Here at Kite, we aim to supply a variety of packaging solutions to ensure that all of our customers can protect and package their products effectively.
This week in the surgery, we help a customer to package large glass frames.
Dear Doctor,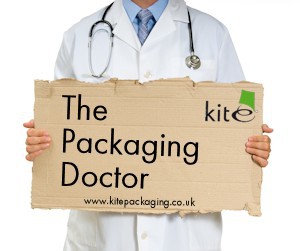 I sell large glass frames and have had problems when sending them out for delivery, as they are fragile and easily damaged.
The frame dimensions are 561 x 420 x 8 mm, so I need a solution that effectively protects the frames during transit but at a reasonable cost.
Can you help?
Robert
Hi Robert,
Thank you for your query, we can definitely help!
Firstly, we propose using Kite's Air Shock Pack 9. This pack contains inflatable, protective corner pieces that can placed over the corners of your frames. These inflatable air cushions provide excellent shock absorption and are lightweight, making them ideal for protecting the goods in transit.
Though Air Shock packaging provides exceptional protection, for such large products such as frames you may want to consider alternative materials.
We present to you Kite Tuff Wrap, a coated bubble wrap material. A firm favourite with art, furniture and removals industries, this non-abrasive protector is specifically designed to protect items against knocks, scrapes and surface damage, providing a strong, cushioned protection and ensuring the glass frames remain in perfect condition.
To complete your packaged frames, you could add Fragile or Handle with Care Tape, to clearly indicate to couriers and handlers that the frames should be handled with additional care.
Best wishes,
The Packaging Doctor
Note: All the packaging problems our doctor receives are real queries from customers or non-customers.
If you have a packaging problem that needs diagnosing get in touch:
Twitter @kitepackaging or email packagingdoctor@kitepackaging.co.uk