How to package mugs – The Packaging Doctor
At Kite, many of our customers need a cost effective packaging solution, but this shouldn't mean they have to compromise on quality.
This week in the surgery, we help a customer who needs a packaging solution to protect the mugs she creates.
Dear Doctor,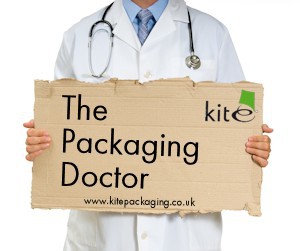 I am looking for a new supplier of boxes for the mugs I make. My current supplier has increased their prices and changed the quality of their boxes, and now I am experiencing a lot of breakages when the products are with the couriers.
 Though I require a high quality solution, I need cost effective packaging.
 What can you suggest to help?
 Jan
Hi Jan,
As we all know, nothing beats a morning coffee - especially in our favourite mug! We have a range of packaging solutions to help!
We suggest using our White Cardboard Postal Boxes (152x127x95), which can provide outer protection for the mugs during transit and also create a presentable parcel for your customers to receive.
The size of box ideal for your mugs is a one-piece carton which is quickly and easily assembled. They have tuck-in-flaps which effectively locks the lid in place, providing a neatly secure finish to the package.
To finish the parcel, you could use Kite's coloured tissue paper, available in a range of colours, to deliver exceptional presentation. You could consider using a fragile label to ensure the parcels are handled with care.
Alternatively, our Air Shock Pack 1 could provide cushioned protection for mugs, as they are designed to protect ceramics and other fragile items. The inflatable packaging is lightweight and provides excellent shock absorption, which would ensure your mugs are protected during transit.
This range of solutions will help ensure all of your mugs arrive with your customers in perfect condition!
The Packaging Doctor
Note: All the packaging problems our doctor receives are real queries from customers or non-customers.
If you have a packaging problem that needs diagnosing get in touch:
Twitter @kitepackaging or email packagingdoctor@kitepackaging.co.uk