How To Package Turkeys For Christmas – The Packaging Doctor
The Surgery Is Now Open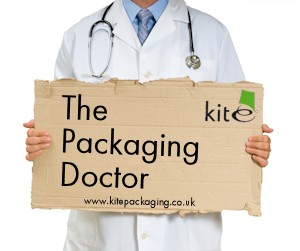 Hi Doctor,
I'm a farmer and own a large farm which breeds a selection of roosting birds, including turkeys. I sell these every Christmas at Farmer's Markets and they seem to go down a treat with the locals. Even though Christmas is a while a way I want to start selling them in November and need boxes to pack them up. The only problem is I won't know the size of the turkeys until they are packed - can you help?
Many Thanks, Giles
Hi Giles,
September seems like a crazy time to start thinking about Christmas, but actually we're already getting lots of requests regarding Christmas packaging, as many businesses want to hit the consumer Christmas market early. The thing is when packaging food products such as turkeys is that you don't want to have a box that is too big as it wastes space and will cause the product to move around causing damage, similarly a box that is too small either won't fit the product or will damage the product by squeezing it in to the space.
For this reason I would recommend using bags to package your turkeys instead of boxes. There are two choices here, white carrier bags are what are used in supermarkets, shops, greengrocers and takeaways - they provide great strength and are manufactured with a plastic additive which means they will degrade over time, good for after the Christmas period and ensuring your product is eco-friendly. If you prefer a packaging which is a little more aesthetically pleasing I would opt for medium duty polythene bags, these come in a range of sizes and protect from dust and moisture. Because they are open ended they can be sealed to fit an exact size, using cable ties or a heat sealer and offer high clarity for improved presentation. This method will also benefit your customers, as they can buy a turkey in the bag and transfer the product straight to the fridge or freezer, this can't be done with boxes as they take up so much room.
If you would still like to transport your goods using a box, I would recommend putting all the bagged turkeys in a strong, large box such as a double walled 30 x 18 x 18 inch box which has hand holes for easy lifting.
Best Wishes, The Packaging Doctor
Note: All the packaging problems our doctor receives are real queries from customers or non-customers.
If you have a packaging problem that needs diagnosing
get in touch on Twitter @kitepackaging
or email packagingdoctor@kitepackaging.co.uk