Packaging For A Butchers – The Packaging Doctor
We have now officially entered April and the months seem to be flying by. Here at Kite we are always helping our customers to find them the perfect solution.  We are feeling super refreshed here in the Surgery after having a nice Easter break and are straight back on track giving you great advice and packaging solutions.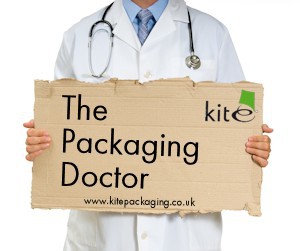 Today in the surgery, we meet a butcher who is looking for a solution so that she can meet her courier guidelines. Currently, they send out their items in polystyrene boxes, before placing in a grey mailing bag.
Dear Doctor,
Please can you support me in finding a packaging solution! We currently send out our items in polystyrene boxes, before placing in a grey mailing bag. However, the courier has advised that they will not handle this kind of packaging so I need to find a new solution. The containers are 400 x 300 x 160 and 400 x 300 x 280 and we will also need to label the packed item so that it is clear for the courier company. 
Thank you,
Katrina
Hi Katrina,
Thanks for your question in the surgery today.
When you are in a routine of using certain packaging products, it can sometimes be hard to think of a different solution that will meet the requirements you have, but not to fear, that's why we are here.
Grey mailing bags are a great way to send goods and are very cost efficient, however, we understand that you require a different solution.
Let me recommend to you our BDCM 4 cardboard box, this box is ideal as it has a write-on panel, this will allow you to write on each box so that it is clear for the courier company to see. They are constructed from high-quality single-wall cardboard ensuring durability. However, this could be too tight for your products, so if you do find that we will also send you a sample of our 16 x 16 x 16 inch standard double wall box, suitable for shipping goods via a carrier or postal network, these strong boxes are ideal for heavy objects and when stacking is required. The height drops down to 305mm if required therefore saving space.
We would also advise handling labels and document wallets so that the boxes are correctly labelled to ensure no confusion for the courier.
If you find that the standard double wall box is more suitable, the void on the width will need to be filled slightly so that there is no movement. I would advise our speed-man box, this low-cost ready to use manual paper void fill system is easy to use and store.
And there you have it, we hope this helps!
Thank you,
The Packaging Doctor