What is glassine and why is it being used in packaging?
The climate crisis has prompted creativity and innovation in regards to packaging materials. Traditionally, plastic has been a fix-all solution to postal problems thanks to its low cost, durability, transparency and light weight; it's downfall comes at disposal.
In order to be sustainable, businesses need to adapt to packaging that can be recycled, biodegraded or composted while boasting comparably practical properties to plastic.
Introducing glassine…
Glassine is a relatively new material on the packaging scene. It is made from a wood pulp, making it 100% paper and thus fully recyclable and biodegradable. Therefore, it comfortably ticks the environmentally friendly requirements of a plastic alternative by having responsible methods of disposal while being manufactured from a renewable resource. Paper and card products can be recycled and remade into new products reportedly up to 26 times before losing its strength, unlike many plastics. Therefore, the start and the end of glassine's life is steeped in eco-friendly qualities, aiding a circular economy and avoiding the usual ways in which single-use packaging can harm our environment.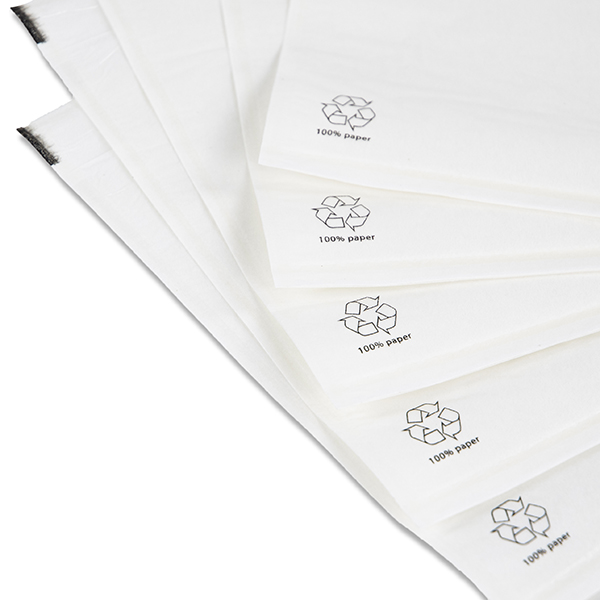 How is glassine different from other types of paper?
Glassine is unique for its translucent, glossy finish. This see-through consistency makes it suitable for many of the applications that previously were carried out exclusively by plastic. The document wallets attached to the outside of packages have always been made from polythene for this reason: the courier needs to be able to clearly read the delivery information. Furthermore, it is imperative that these articles are protected from weather conditions and glassine exhibits the same water resistance as plastic. Indeed, the material is quoted as being air, water and grease resistant to conclusively guard against an array of external factors that could affect the contents during transit. Therefore, our paper document wallets offer an effective and eco-friendly alternative to the plastic variety.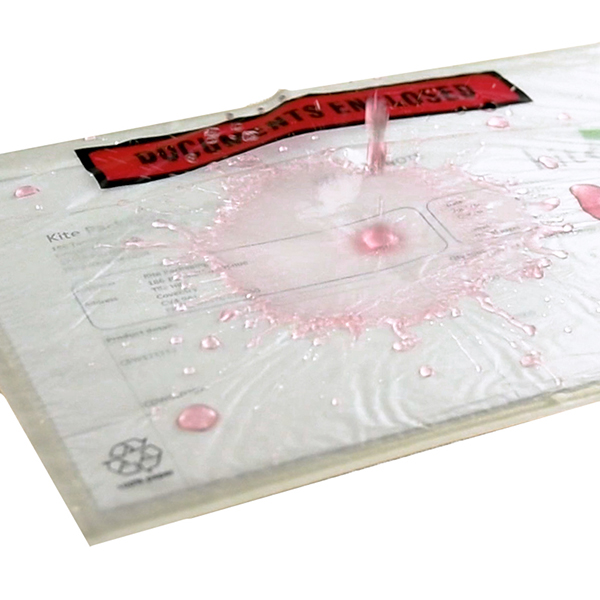 These impressive protective credentials also equip glassine with the tools needed to offer effective internal packaging. Our new glassine bags can replace the plastic pouches typically included inside mailing bags when transporting clothing, accessories or other textiles. Presentation paired with extra protection is paramount when posting fashion items or expensive garments; these translucent envelopes add a suitable layer of reinforcement to these light to medium weight objects. Clothes are kept in pristine, folded condition for the optimal unboxing experience while delicate textiles are shielded from any dust, dirt or moisture that might otherwise transfer during delivery and damage the contents. Using internal packaging such as these glossy bags exudes professionalism and is especially useful when posting multiple items in a single package.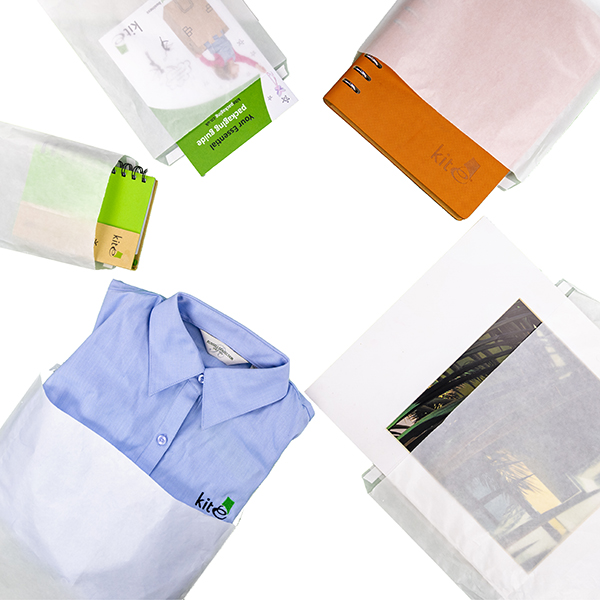 Why should you use glassine?
Not only does the use of glassine packaging grant your brand a premium feel with its glossed finish, it is also a strong marketing tool thanks to its 100% paper and plastic-free construction. Particularly within the fashion industry, people are becoming increasingly aware of the damaging effects plastic has on our environment. Sustainable clothing lines are experiencing unprecedented growth despite the higher prices which may have been perceived as a deterrent for shoppers. In the UK, 56 to 59% state that they are willing to pay "a lot" or "a bit more" for sustainable food packaging, yet this attitude is appearing to be reflected across a range of sectors.
Therefore, being able to advertise your championing of a new eco-friendly plastic packaging alternative will help to fuel these conversations while painting your business in a positive light. Values of social responsibility and technological advancement will be ascribed to your brand. Furthermore, the intelligent composition grants you all the necessary practical elements without the environmental guilt of using a material that is extremely slow to degrade.
How to pack with glassine:
At Kite, we have an abundance of eco-friendly postal packaging to complement the sustainability of our new glassine bags or paper document wallets.
For a fully plastic-free paper parcel, choose our paper mailing bags for your outer packaging. Depending on the weight of your objects, you can select either a standard 1 ply or a heavy duty 2 ply brown paper bag complete with a peel & seal strip to contain your products. The material is robust and water resistant in addition to being 100% recyclable and FSC certified. Acting as a popular alternative to polythene mailing bags, these strong sacks represent the perfect harmonizing of environmental values with reliable functionality. Clothing or fabric homeware products can be placed in a glassine bag before being packed into the larger paper mailer, completed with a paper document wallet on the exterior to display delivery information.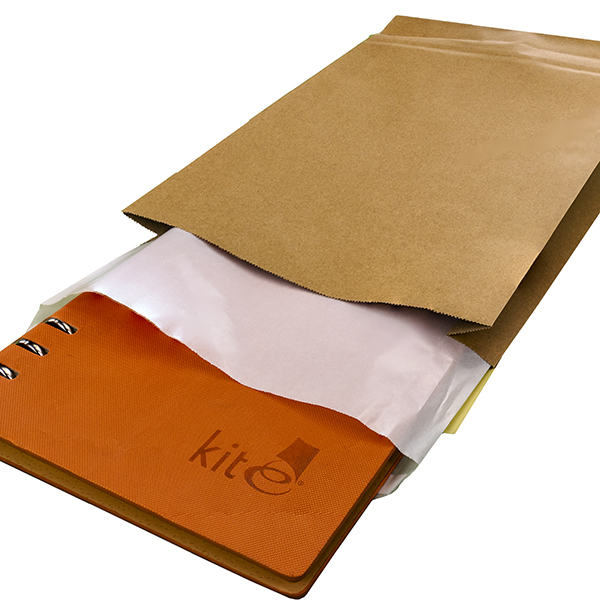 On the other hand, if you are seeking a closer replica of a traditional polythene mailer, our Eco mailing bags are the ideal choice. Made from sugar cane, these bags share the same qualities as standard oil-derived mailers while completely omitting fossil fuels from their manufacture. Instead, they are carbon neutral in their construction since the sugar cane removes carbon from the environment during its growth, offsetting that emitted to manufacture the bags. The resulting material is also 100% recyclable, matching the responsible disposal that comes with the glassine bags. Their sugar cane origins are labelled on the outside, granting your customer a positive first impression of eco-sensitivity upon receiving their order. This is enhanced when the products inside are neatly contained in individual paper glassine bags. With a paper document sleeve on the outside, the entire package can be put out for easy kerbside recycling, maximising overall customer satisfaction.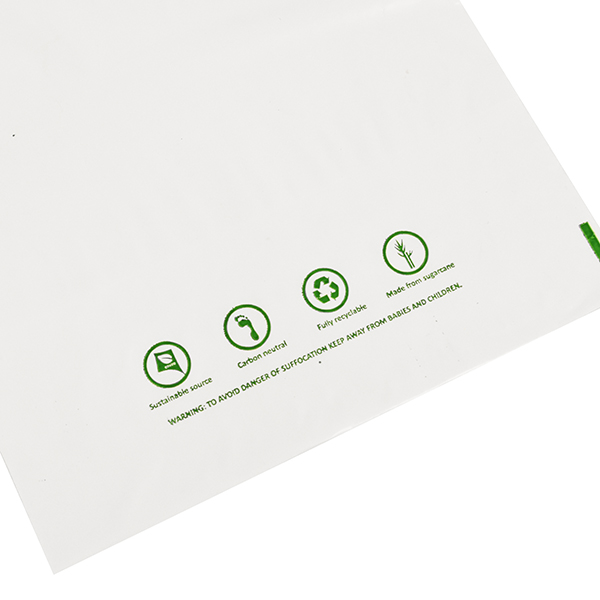 With the growing attitude of eco-awareness, new sustainable packaging materials will continue to be developed. This will grant us the national ability to greatly reduce our negative impact on the planet. The onus then lies with businesses; it is up to you to champion the use of these eco-friendly innovations to propel demand and prompt further advancements. At Kite, we simply make sure to give you access to the broadest possible selection of products with a particular emphasis on sustainable options.