Corrugated thermal box liners
What are corrugated box liners?
The cardboard box liners are comprised of two identical pads for the top and bottom and four pads for each side. These products arrive flat-packed and are assembled by simply folding inwards and securing with the fitted seal and peel. This creates the high-quality insulating protection chilled packaging requires to deliver goods in prime condition. Each corrugated pack fits exactly into two of our stock boxes for a secure fit unlikely to move about while being transported. When used together, every surface area of a box is thermally lined with a material designed to resist external changes in temperature from affecting the products inside. As such, our corrugated box liners are typically used in conjunction with other products within our chilled packaging range.
How do corrugated box liners compare to polystyrene products?
To assess the functionality of our eco-friendly alternative to polystyrene, we conducted a series of externally verified tests. These experiments revealed that the corrugated liner pack was as effective as the polystyrene pack for maintaining an internal temperature over the full testing period of 48 hours. After 24 hours in an environment controlled at 23C, both varieties recorded similar internal temperatures of -5.828C for polystyrene and -5.636C for the corrugated liner. When conditioned at 5C, the materials were -4.708C and -4.263C respectively.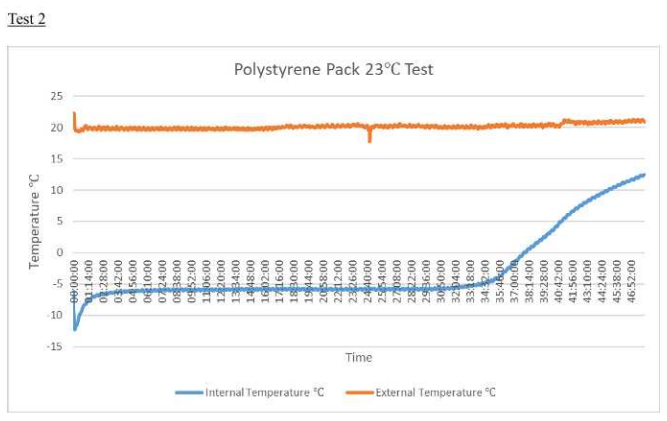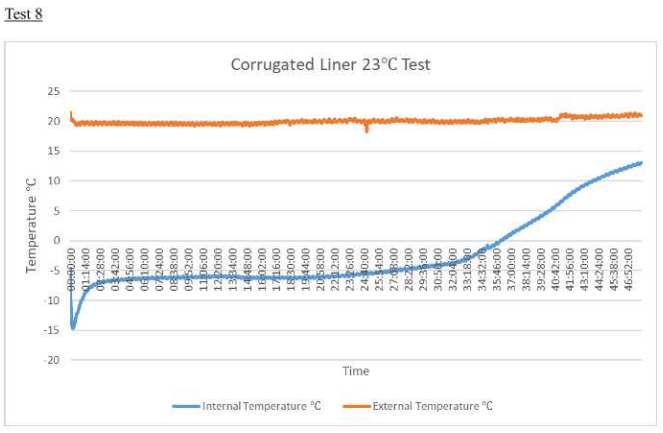 What are the technical properties of cardboard liners?
Evidently, our cardboard liners are highly effective thermal regulators. The double-walled corrugated layers provide an insulating barrier against external temperatures, serving to keep the contents at a stable chilled temperature for approximately 31 hours. The BC flute corrugation also provides excellent shock absorption to dependably protect your products from any knocks or bumps that may occur while in transit.
What can thermal box liners be used for?
Our sustainable box liners are an integral part of our chilled packaging range due to their many applications within the refrigerated food sector. Pharmaceutical companies also sometimes require temperature-controlled packaging. Whenever products are susceptible to changes in temperature, our insulated liners and other chilled packaging products are perfect solutions for safe transportation.
What are the environmental qualities?
Our corrugated cardboard, constructed from 125gsm paper is widely recycled both commercially and domestically, feeding the materials back into the system to promote a circular economy. The disposal is convenient and responsible, to complement the cardboard itself which is FSC certified as testament to its ethical sourcing.
Video:
Corrugated thermal box liners
How to use our 100% recyclable corrugated thermal box liners