Corporate social responsibility
Corporate social responsibility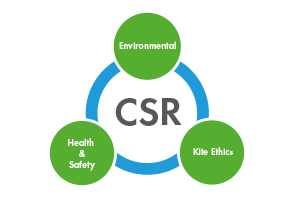 ISO Certification
Kite Packaging holds both the ISO 9001:2015 and ISO 14001:2015 awards. These standards, for environmental responsibility and quality, are a demonstration of our commitment to improving the service we provide.
We also hold BRCGS Global Standard for Storage and Distribution
To view an electronic copy of our latest certificates please click the links below:
Environment
Kite Packaging is committed to minimising our impact on the Environment. From maximising the use of recycled and recyclable materials in our products, and using suppliers who recognise their environmental responsibilities to minimising packaging waste both on-site and through our service offering, we take a proactive approach to supporting our environment.
We are the only Packaging Company to run a Compliance Scheme (KES) for the Packaging Regulations and were one of the first packaging organisations to be accredited with ISO 14001:2015.
Click here for more information on our environmental activities >>
Modern Slavery Act 2015 - statement of compliance
This statement is made pursuant to Section 54, Part 6 of the Modern Slavery Act 2015 and constitutes the Kite Group's Modern Slavery Statement for the financial year ending 31 December 2022. It sets out the steps that the Kite Group have taken to ensure that slavery and human trafficking is not taking place in our supply chains or in any part of our business.
Download Kite Packaging's modern slavery statement >>
Kite Packaging Code of Ethics & Supplier Code of Conduct
Kite Packaging prides itself on operating to the highest ethical standards. To support this, all our preferred supplier partners and Kite employees are required to sign a 'Code of Ethics & Supplier Code of Conduct' agreement, which outlines both the ethical codes Kite works to in its day-to-day business practices, and the conduct we expect from our suppliers.
Both the Kite Code of Ethics and Supplier Code of Conduct has been prepared with anti-corruption and anti-bribery laws at the forefront, and full awareness regarding transparency when communicating financial results.
To read the full document please click on the link below.
Download Kite Packaging Code of Ethics & Supplier Code of Conduct >>.
Health & safety policy
Kite Packaging is committed to ensuring the health and safety of its employees and to providing a safe environment.
Click here to read the full document >>
Gender pay gap
Kite Packaging Limited has complied with its obligations under Gender Pay Gap reporting.
Click here to read the 2018-2019 report >>
Click here to read the 2019-2020 report >>
Click here to read the 2020-2021 report >>
Click here to read the 2021-2022 report >>
Click here to read the 2022-2023 report >>