Rubble sacks
Specially designed to suit the building, construction and landscaping industry, rubble sacks, or 'builder's sacks' as they are sometimes known, are highly tear-resistant bags made from LLDPE recycled material. Often used in replacement of skips, when space is limited on a building project or site access is restricted, they can be used to collect a multitude of industry waste including timber, plaster, landscaping waste and broken bricks.
Rubble sacks are a clean and efficient way of clearing debris, and safely deposing of waste, because they are highly burst-resistant – and reduce risk of sharp objects causing harm on site. They can also be used for transporting materials to projects and around sites – such as gravel, sand, stones and concrete.
We supply rubble sacks in pack quantities of 100, making them ideal for commercial use in various labouring industries including building, construction, landscaping, tree surgery and interior design.
All of our sacks are made from a nominal 125 micron recycled LLDPE (Linear Low Density Polyethylene), and are super-strong so that they can be reused. Sold in three different colours, with two size variants. See table for more information.
Black and blue rubble sacks
Our black and blue coloured rubble sacks measure 20 inches (width) x 30 inches (length), and are manufactured from a heavy duty 125 micron LLDPE material.
Grey rubble sacks
These sacks are slightly bigger than our blue and black versions, measuring 22 inches (width) x 34 inches (length) and manufactured from the same heavy duty material.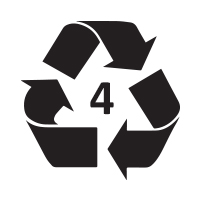 Click here for our recycling guide