How thick is an extra heavy duty polythene bag?
Our most durable virgin polythene bags are 500 gauge (125 micron) thick to offer an incredible degree of toughness. These extremely strong, clear plastic bags are ideal for storing, transporting or protecting heavier, bulkier or sharper goods that may otherwise split less robust, thinner bags.
What sizes are available of our extra heavy duty polythene sacks?
These ultra-reinforced bags are supplied in sizes ranging from small 102 x 152mm pouches to very large 914 x 1,219mm sacks. This equips them to deal with a wide-ranging assortment of products. It is worth noting that each size is subject to a manufacturing tolerance of +/- 5% which should be factored into your choice when ordering.
When should I use an extra heavy duty bag?
The thickest variety of these bags is a favourite for satisfying warehouse needs, office goods or carrying engineering parts. The significantly superior strength can accommodate far more substantial items compared to the lower duty bags on offer, identifying this packaging as an invaluable addition to many work areas. The high clarity material helps the contents to be instantly identifiable to the user, heightening the practicality of the solution.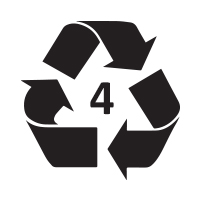 Click here for our recycling guide