What is a heavy duty polythene bag?
Our second thickest variety of polythene bag measures 360 gauge (90 micron). Manufactured from 100% virgin quality polythene, the transparent material is high clarity to clearly display the contents to the customer. In keeping with the other bags within the range, this product has three sealed sides and an opening to fill with goods before securing with a heat sealer or bag neck sealer. The heat sealed technique, in particular, provides a near impenetrable fastening to reliably store or mail objects without allowing for contamination by dirt, dust or moisture.
What sizes of clear polythene bags are available?
These durable clear bags can be supplied in very large sizes up to 900 x 1200mm in addition to small 100 x 150mm dimensions. The product table displays the range of dimensions in the order of width (opening) x length, allowing for a manufacturing tolerance of +/- 5%. To adjust towards this factor, it is sometimes worth ordering up a size to ensure the best fit for your intended product. This comprehensive range is designed to supply a suitable solution for most applications. At Kite, we also offer light, medium and extra heavy duty polythene bags to support this goal of packaging all types of different products.
What types of object can a heavy duty bag carry?
These sturdy polythene bags are significantly less likely to split or tear compared to the lower duty varieties, empowering them to carry heavier or sharper objects. The smaller of these heavy duty bags are perfectly suited to the products sold by DIY stores or ironmongers, for example. The larger varieties, however, are excellent options for garden centres and builders' merchants who frequently handle more substantial objects. Given the high durability of these plastic pouches, they would work well for wholesale or large shipments of various items. Used in conjunction with a heat sealer, the contents would be securely shielded from contaminants to keep the goods in optimal condition as regards hygiene and sanitation.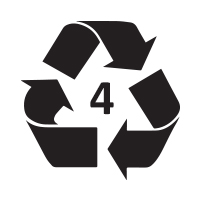 Click here for our recycling guide


Video:
Heavy duty polythene bags demonstration video
How to use and seal heavy duty clear polythene bags.
Our heavy duty clear polythene bags are 90 micron or 360 gauge thick, making them a strong option for heavier or sharper items such as tools.
The thicker material is less likely to split or tear.
They can be sealed using one of our heat sealers for an airtight professional seal.
Stapling pliers are an alternative sealing option for this bag thickness.