Polypropylene strapping
Our polypropylene (PP) strapping is perfect for use with the light and medium duty strapping tools, or any hand-operated dispenser tool designed to make light work of unitising, bundling, carton sealing and palletising processes. Strapping helps products remain stable during transportation helping to avoid damage and general breakages. These rolls are also ideal for use with a dispenser trolley meaning your hand strapping operators can be fully mobile and move the equipment to the product, rather than the other way round.
Embossed to defend against splitting and to ensure seal joints are as tight as possible, and comprising higher elongation and anti-snap properties, you can rely on Kite Packaging's plastic reel strapping to keep transited and stored items secure.
With each roll comprising at least 1000 metres of strapping tape, these rolls are a very economical packaging solution for businesses. We also supply polypropylene strapping on a cardboard core.
Please note that white strapping comes on the cardboard core, and black strapping comes on the black plastic core. The diameter of our cardboard cores measures 200mm with the outside measuring 420mm. The diameter of our plastic cores measures 50mm with the outside measuring 400mm. Our plastic reeled strapping is made out of 90% recycled content.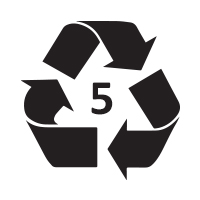 Click here for our recycling guide