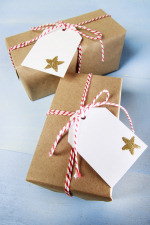 It's not too late to give...
With the clock ticking and more advent windows being opened, Christmas really isn't that far away. As businesses begin to breathe a sigh of relief that the busy period for orders is coming to a close, it's a different story for the recipients who are buried in a pile of gifts and wrapping. Christmas is also a time when you can take a step back from your own life and consider those that will be going without presents and even food this season. Charities are at their busiest this time of year and need all the help that they can get.
At Kite, we realise that businesses are made up of people – people with friends, family and causes close to their hearts. Today's blog post will focus on what packaging will give your family a wonderful Christmas, and how picking the right size box will help with any festive charity work you may be doing.
If you want to share your homemade Christmas gifts or charity parcels, send us a picture on Twitter - @kitepackaging
Festive Hampers
If you're still head scratching about what to get someone, or have a selection of oddly shaped presents to give a loved one, a Christmas hamper is a great gifting solution – and much easier than wrapping lots of small items! Christmas hampers are hugely popular, and allow you to choose a number of items and package beautifully to give a presentable looking gift.
Some websites charge unbelievably high prices for presentation boxes, as they are often stylishly put together and labour costs need to be covered. However you can easily create your gift hampers at home. For a more rustic, family feel choose our double wall cardboard boxes. These are strong enough to be filled with heavier items such as wine and food, and can be packed with a void fill to stabilise items and finish off the look. Straw is a popular thing to use at Christmas as it is representative of the Nativity, but you could also try vermiculite – made from minerals it has a beautifully natural look. Because these boxes have a smooth outer there's no need to wrap them, simply finish off with a big festive bow or ribbon.
If you plan to send smaller hamper style treats this season, a white presentation box is ideal. These are perfect for female presents as they look highly professional when filled with cosmetics and lined with tissue paper. The glossy outer is reminiscent of a high-end department store, and you can choose from our huge range of tissue paper colours to match the person's individual style. These boxes are also ideal if you plan to keep costs down and make your own presents such as cakes or handmade chocolates, the box and lid style white boxes are a popular choice for these products.
What's more, these boxes have been designed to comply with the Royal Mail PiP guidelines so if your hampers need to be posted they can be sent as they are. The strong single wall cardboard will also protect items well in transit.
Christmas Giving
Christmas time is a wonderful celebration for most of us, a chance to get together with our friends and families and share presents, good food and great company. However for the not-for-profit sector, this season is their busiest time and many of their clients are looking at spending Christmas often without food, family or even a roof over their heads. There are some great charities that are looking for some extra help over Christmas. Here are a couple of suggestions for what you can do...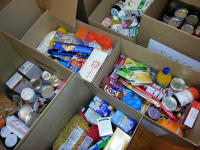 Food Banks
The Trussell Trust, Britain's largest food bank charity, has seen a huge 170% increase in people needing emergency food supplies since they were launched in April 2012. Each month a huge number of families living in the UK simply can't afford to buy food and use this invaluable service. This number typically increases during Christmas and food banks need even more help from local communities.
Food banks require donations of non-perishable food items such as tins, pasta, rice, UHT milk and cereals. Of course this is so items can be stored for a long time and can be shared equally between clients; however these items are often very heavy.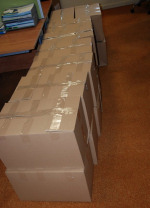 We recently donated to food banks in Coventry, as part of our company CSR programme, and realised quickly that in order to transport donations effectively smaller, strong boxes are needed. It is also always worth asking the food bank themselves the size of boxes they can take, as often health and safety regulations permit that volunteers should only handle boxes of a certain size to reduce risk of injury.
We found that our 20 x 12 x 12 single wall boxes worked brilliantly for packing items. Remember to have a mix of tins and lighter items so that the boxes don't split. If you prefer to use something stronger then our 18 x 12 x 12 enviro-box is perfect for food donations, and provides adequate strength for tins and large items. To find out where your local food bank is simply log on to The Trussell Trust Finder
Christmas Presents
One of the most effective ways to bring some holiday cheer to a good cause and your business is by doing a Christmas gift drive. All you need to do is simply ask each one of your employees to bring in a children's gift. A new toy, art set, doll – it could be anything as long as it is in its original packaging and suitable for a child. You'll soon see the pile of toys build up once everyone is involved.
The fun thing about this type of corporate giving is that once all the toys are collected you can gather teams together for a good old fashioned wrapping session! Business activity often dies down nearer to the 25th December and is therefore a perfect chance to put on some Christmas songs and get wrapping. To save on costs, Kite stock some beautiful Kraft paper rolls that come in red and green – Christmassy colours and not gender specific so that they can be all mixed together.
These can then be donated to a charity of your choice; many children's charities are delighted to receive Christmas presents – particularly children's hospitals such as Great Ormond Street where many children are too ill to spend Christmas at home.
If none of these take your fancy there are still plenty of other good causes that need a helping hand, you could take part in a local Santa Run for charity, donate money so charities can give people overseas a happier Christmas, adopt an animal or donate a goat to a village in Africa.
We wish you all the best of luck in your last minute present buying and corporate events – thanks for reading!