Five eco-friendly alternatives to bubble wrap
For decades, bubble wrap been the industry norm for protecting fragile items. Recognisable amongst corporate business leaders and the average consumer alike, the plastic air pockets can be tangibly tested for shock absorbency and resilience; they are a tried, tested and trusted household and warehouse solution.
However, they are also notoriously bad for the environment. Although technically recyclable, it is dubious whether your local council will accept bubble wrap for collection, causing the plastic to end up in landfill where it can pollute the environment further down the line. From a logistics perspective, rolls of bubble wrap are also highly impractical by taking up colossal amounts of storage space. By considering both these factors, they are decidedly unsuitable for growing businesses wishing to appeal to the increasingly environmentally aware market while running an efficiently managed warehouse operation.
Thankfully, Kite Packaging supplies five alternative solutions that boast superior green credentials, functionality, space conservation and even cost effectivity when compared to bubble wrap. These products are designed for use by companies of any size.


This is one of our bestselling eco-friendly solutions due to its outstanding strength partnered with 100% recyclability, biodegradability and plastic-free paper construction. It utilises expert engineering to create the honeycomb structure of tessellating honeycomb cells, with the hexagon being one of the strongest structural shapes there is. These cells lie flat in a highly compact roll and expand outwards when being wrapped around a product. This grants excellent flexibility, allowing any awkward shapes to be easily contorted around in addition to eliminating the need for tape since the material can interlock into itself.
Fascinated by the potential of this exciting innovation, we took the liberty of directly comparing the space and cost saving of using hivewrap compared with bubble wrap.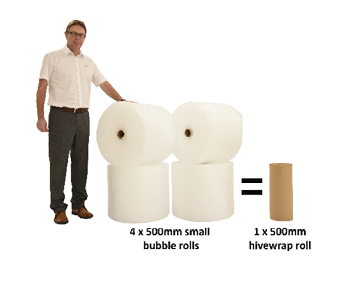 It seems that there is benefit from trading in the family favourite after all - and that's before even considering the difference in environmental impact.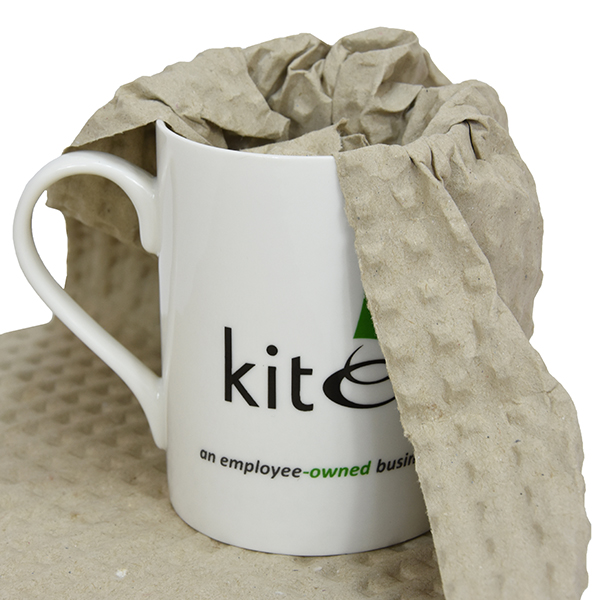 We get it, bubbles are reassuring methods of wrapping your goods because you can see and feel the degree of cushioning. So, for a direct parallel product, paper bubble wrap could be the perfect choice. The version supplied by Kite has been manufactured with deep indentations to make it the strongest product of its type. However, unlike the plastic variety, this paper wrap is relatively streamlined and helps to conserve that all important storage space that is essential for business growth.
In terms of sustainability, the packaging ticks almost every box there is by being made from recycled materials and being completely recyclable or biodegradable after use. Simply use as you would plastic wrap, by rolling out the necessary amount, tearing and taping around your product for a secure standard of protection.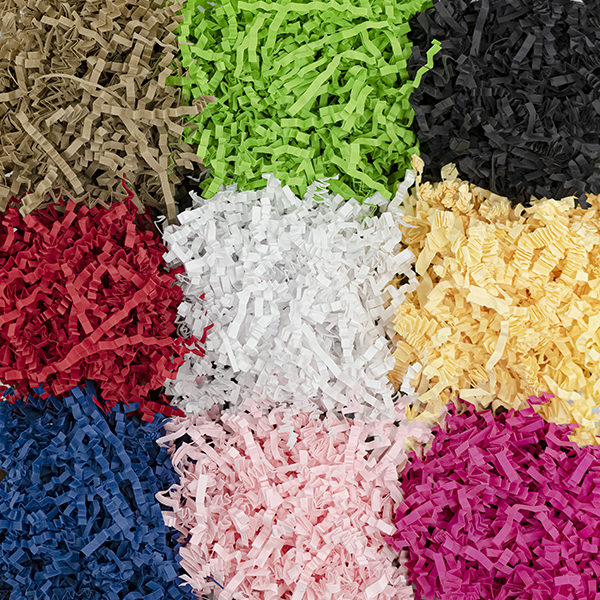 Sometimes used in conjunction with paper wrap, void fill is also a great way of protecting items from inside a box, with or without additional packaging directly wrapped around the object. Our shredded paper offers impressive internal protection, exemplary green credentials and aesthetic presentation properties, making it a perfect substitute for bubble wrap when packaging certain products.
Gift wrapping is traditionally associated with waste that could contribute to pollution, however, these shreds available in a spectrum of attractive hues are reusable, recyclable and biodegradable with FSC and PEFC certifications to boot. The kraft variety is even produced from 100% recycled materials.
The small shreds can work their way into every corner and small gap, providing great all-round protection while the paper is strong and high-quality with a 70-80gsm thickness. Choose from either zig-zag shreds or straight cut pieces depending on personal aesthetic preference. The perfect partnership of presentational value, practicality and positive environmental qualities makes this packaging especially popular in retail, beauty, homeware and gift sectors.
4)
Speedman paper wrap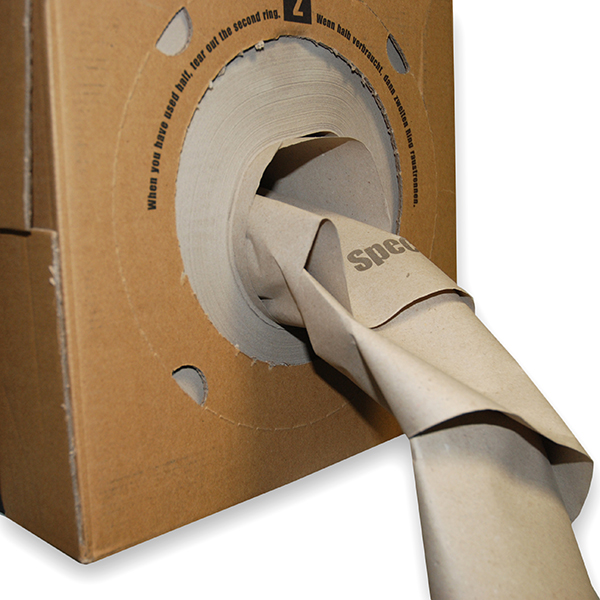 The Speedman range is the ideal choice for companies prioritising efficient packing and optimal protection over factors such as presentation. This solution is easily scalable with its most simple version consisting of a simple yet surprisingly effective
cardboard box dispenser unit
, ranging up to the impressively sophisticated
Paper Jet system
that operates at twice the speed of any other paper cushion machine in the UK. Assess your production needs and storage capacities to select the perfect appliance or combination for your warehouse.
The durable paper cushions are made from 100% recycled material and are fully recyclable after use, demonstrating the perfect execution of a circular economy. As such, the packaging acts as a wonderful source of environmental marketing for your brand alongside capably preventing damages during transit.
The paper is very low-cost, making it a sustainable solution both in terms of the environment and your finances.


Similar to the shredded paper void fill, loose chips do not directly cover a product in the same way as bubble wrap. However, by occupying the surrounding space in a carton, the protective results of using this packaging are comparable in many cases.
The main appeal is their instantly gratifying disposal process; the starch packing peanuts are 100% compostable. This can be observed for ultimate customer satisfaction by placing the packaging in water and watching it dissolve. The EcoFlo material is fully soluble when saturated in water, leaving no harmful components behind. Not to mention, starch is an annually renewable resource. Therefore, these loose fill chips express sustainability at the start of their lives and at the end, making them an impressive packaging product for any conscious business.
Finally, this innovative in-the-box solution performs even better than the polystyrene version according to independent testing carried out by Brunel and Humberside universities. This asserts that the chips will absorb any impacts that may occur during transit, cushioning the internal products while holding them firmly in place within the container. The contents are very unlikely to be damaged as a consequence.
The verdict is in: bubble wrap is unsustainable. Whether you object to the environmental impact, the storage difficulties or the cost, which will only increase with the introduction of an imminent plastic tax, it is time to make your packaging smarter and embrace an alternative. With Kite's plentiful range of sustainable swaps, your ideal solution is simply waiting to be shipped. If your business requires a more bespoke product, don't hesitate to get in touch with our packaging specialists at 02476 420065. Our talented team have the skills to create custom designs, which have previously won Packaging Awards due to their innovation and successful meeting of briefs.