How To Package Jigsaw Puzzles – The Packaging Doctor
Christmas may seem a million miles away to us all, but for those working in the world of retail, now is the prime time to start preparations.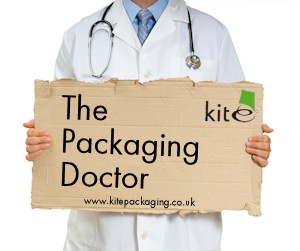 Negotiating prices with suppliers, building up stock levels, and recruiting, are just a few of the 'forward-thinking' strategic tasks you can do to prepare for the peak season. Looking at the way your daily operation works, and making tweaks to processes, can make a whole lotta difference- and bring in a whole lotta of profit!
Today in the surgery we meet a games supplier, who is searching for a new method to improve the security of his items during transit.  Read on below for my latest diagnosis, as I help to find the missing piece to his puzzle…
Hi Doctor,
I have an online business selling children's games.
Our current packing method for our jigsaw puzzles is postal boxes; however we find that they do not stay intact during transit.
We desperately need to find an alternative method to start using, that is both cheap and effective.
What would you recommend?
Thanks,
Alan

Hi Alan,
Thanks for your question. I have a great solution for you up my sleeve that will sort this issue out in no time!
Firstly, take a look at our Heat Shrink Systems. These machines are specifically designed to package small items, ideal for your jigsaws. Our Desktop Heat Shrink Film System is perfect for your application.
The desktop shrink system professionally shrink wraps products, keeping them protected from dirt and moisture. It is a popular tool within the retail sector, regularly used by my patients in the games and toys industry, and is easily implemented into your working operation.
To use, you will require Polyolefin Shrink Film. This film offers high clarity, which creates a great professional finish. The film is very high strength and environmentally friendly; containing no plasticisers or chlorine, and releases fewer odours than PVC.
To use, roll out the film and insert your jigsaw puzzle, heat seal and cut one side, and seal the top of the film. Use the desktop shrink gun over the product and watch as the film shrinks around the product to protect it.
Now your jigsaws are sealed, let's complete the process to minimise transportation damages. Book Wrap Mailers are the perfect products for the job.
These cardboard wrap-around boxes are ideal for books and DVD's, and make an affordable and presentable packaging solution.
Simply insert your wrapped jigsaw into a mailer, fold the sides, and using the peel strips, seal the package. Your jigsaws are packed ready for transport.
What's great about the finished pack is that our mailers are Royal Mail PIP compliant, which will help keep postage costs down even further.
There you have it, another problem solved.
Hope this helps!
Best wishes,
The Packaging Doctor
Note: All the packaging problems our doctor receives are real queries from customers or non-customers.
If you have a packaging problem that needs diagnosing get in touch on Twitter @kitepackaging or email packagingdoctor@kitepackaging.co.uk