What is a corrugated cardboard sheet?
These plain cardboard sheets feature a single layer of R-flute corrugated board that is approximately 2.3 to 3mm thick depending on the other dimensions. The corrugated construction provides cushioning and shock absorption available in a range of different widths and lengths to tailor to your specific products. These flat sheets take up minimal warehouse space while being a versatile resource for a range of protective and stabilising applications.

The diagram below refers to the table dimensions, where length (A) is the first measurement shown and width (B) is the second: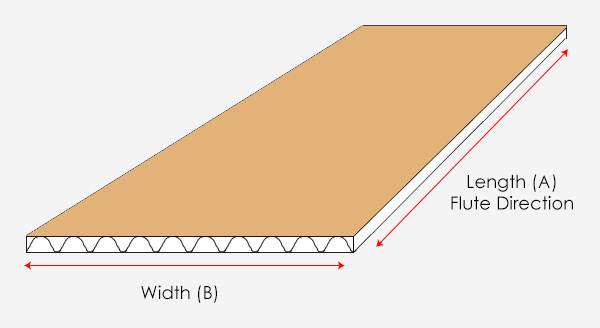 What can a cardboard sheet be used for?
These protective pads have a wealth of uses, enhanced by the wide selection of sizes supplied by Kite. The A4 to A3 sizes are commonly used as dividers to reinforce canvases, documents, frames or an assortment of other items requiring extra protection to the flat surfaces. Items including clothing and textiles, for example, shirts, sheets and bedding, can also use cardboard to maintain the presentation of a product within its packaging. These layer pads can also be beneficial for stacking these types of products within a store room or warehouse, leveling the surface to reduce the chance of the goods toppling.
The largest pallet sizes are useful for stabilising and helping loads to be more sturdy. The puncture resistance holds the shape of the R-flute but, conversely, can be cut easily with a Stanley knife to achieve the precise measurements you may require. The sheets are compressed to create strong forces and the outer Kraft paper is reinforced to aid in the structure.
In the box, protective sheets can separate layers of products to prevent them knocking together or enable stacking to get more items in a single box. The single layer of corrugation makes the sheets flexible enough to fold over edges and corners to add shielding to these vulnerable areas. This is especially useful when strapping or pallet wrap is to go over the load.
Is a cardboard sheet environmentally friendly?
These cardboard dividers are widely recyclable and a great plastic-free option for layering protection. The Kraft outer further aids the sustainability of the product through the manufacturing process that omits the excessive bleaching common with other paper production methods and recovers all the by-products for reuse. Overall, these corrugated pads are low-cost and very low-impact on the environment while providing powerful protection for shipping and packing.

See our range of double wall cardboard sheets for a heavier duty alternative.
Video:
Cardboard sheets demonstration video
How to use corrugated cardboard sheets to protect flat items
We sell both single and double wall cardboard sheets in a range of sizes.
Double wall sheets contain 2 layers of corrugated fluting for extra strength and protection.
Both can be used to protect flat items such as canvas prints.