Single wall cardboard sheets
Our single wall cardboard sheets, perfect for use as dividers and supplemental protection. Thanks to our budget-friendly approach to business, we offer a range of bulk pricing discounts to customers placing larger orders. Additionally, our wholesale prices are available to large businesses interested in high-volume transactions.
Our corrugated single wall cardboard is made using R-Flute cardboard (310 x 210mm and 300 x 420mm B-Flute cardboard), ideal for high-speed packing operations and commonly used as pads, dividers and partitions. Corrugated cardboard sheets have excellent resistance to puncturing and require less space in warehouses and factories. Each sheet is brown and roughly 2.3mm in thickness (310 x 210mm and 300 x 420mm are 3mm in thickness).
If you cannot find the exact size you require, single wall corrugated cardboard can be easily cut to size with a Stanley knife.
All R flute sheets are compressed to create strength, and the outer Kraft paper is reinforced to aid in the structure, making the product more environmentally friendly in comparison to other board grades.
The diagram below refers to the table dimensions, where length (A) is the first measurement shown and width (B) is the second: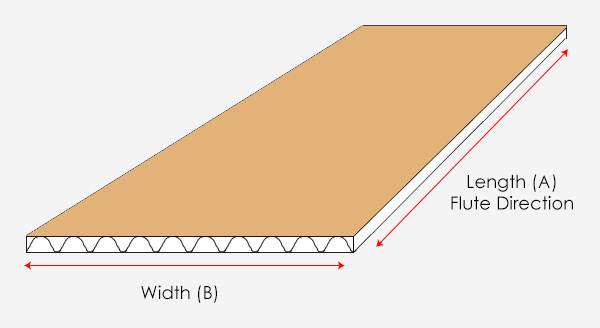 Single wall cardboard sheets uses
Single wall cardboard sheets are an inexpensive, useful addition to any packing facility. Cardboard sheets are used when packing cartons to protect and separate layers of products, adding a little extra protection when packaging awkward and fragile goods. Single wall corrugated cardboard can be bent to add extra protection to edges and corners, particularly when strapping and pallet wrap is to be used.
Use single wall corrugated cardboard sheets to reinforce envelopes to keep sensitive documents flat on their journey through the post, or to add support to packaged paper products such as calendars and art prints. Cardboard sheets can even be used in the folding and presentation of clothing and textiles, for example shirts, sheets and bedding. Corrugated sheets are often used as layer pads, interleaving between layers of products stacked on a pallet for additional stability.
Single wall cardboard is the perfect choice for individuals looking to add additional protection to their cardboard packing products. Thanks to a durable corrugated design, our single wall cardboard can protect items in situations where objects do not need to withstand large amounts of pressure or weight. Single wall cardboard is an inexpensive, powerful choice for shipping and packing.
See our range of double wall cardboard sheets for a heavier duty alternative.
Video:
Cardboard sheets demonstration video
How to use corrugated cardboard sheets to protect flat items
We sell both single and double wall cardboard sheets in a range of sizes.
Double wall sheets contain 2 layers of corrugated fluting for extra strength and protection.
Both can be used to protect flat items such as canvas prints.