How To Package Hand Crafted Plates – The Packaging Doctor
From our recent blog posts you will know that at Kite we embrace the summer months, and as we approach these last few weeks, we want to make the most of it!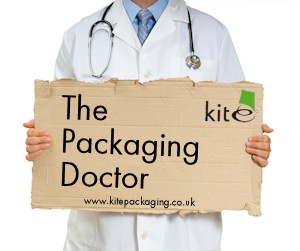 With the Great British Bake Off back on our screens, and our evenings spent in the hazy sunshine, nothing says summer quite like an all-time British favourite activity, a picnic. Whether you favour a fresh sausage roll over a slice of soft Victoria sponge, a picnic isn't complete without your finest crockery.
For businesses shipping fragile items, the packaging used needs to be strong enough to protect goods, and withstand in-transit damage, ensuring items arrive in one piece.
Today in the surgery we meet a crockery supplier who is searching for a cost-effective packing solution. Read below how I helped prescribe my latest piece of smashing advice…

Hi Doctor,
I have an online business supplying hand crafted plates to retailers all over the UK.
I am in need of a new packing method that is cost effective, and offers great protection as I send my plates in the post.
What would you recommend?
Thanks,
Darren
Hi Darren,
Thanks for your question.
When it comes to protecting fragile items during transit, there are many solutions available on the market that I could prescribe. Some of my favourites include Air Shock Packaging and Postal Boxes with Foam Inserts, but for your plates, and to ensure we keep postal costs down to a minimum, I would recommend the use of Book Wrap Mailers and Bubble Bags.
Bubble bags will instantly protect your plates and prep them ready for delivery. Available in a range of sizes, and in both an economy and premium range, bubble bags are a popular and flexible product, used within a variety of different industries.
Although they make look simple, never under-estimate the strength of a bubble bag! Bubble bags are specifically designed to protect small items, are strong, and are incredibly lightweight. These are all great benefits whilst looking for a solution to help keep postal charges down to a minimum.
To use, simply insert your plate into a bag, and seal using the peel and seal strip. Now let's complete the package with a book wrap mailer.
Cardboard wrap-around boxes are extremely popular amongst my ecommerce patients. Made from a high quality material, and complete with a strong peel and seal strip, the mailers offer great protection and security to products, every time.
They are so easy to use. Simply insert your plate into the flat mailer, place under the flaps, wrap the pack around the product, fold the edges and seal using the strong peel and seal strip.
Your plate is now securely sealed, and ready for delivery. The mailer will have sufficient space on the outer layer, so why not add customised tape to promote your brand and help give a presentable and professional finish to your plates?
Book wrap mailers are an excellent product. Not only are they an affordable, effective solution, they meet Royal Mail Pip small parcel criteria, meaning they keep postage costs down to a minimum. By using this as your new packing method, you will have a clear idea of your postage costs, every time.
Hope this helps!
Best wishes,
The Packaging Doctor
Note: All the packaging problems our doctor receives are real queries from customers or non-customers.
If you have a packaging problem that needs diagnosing get in touch on Twitter @kitepackaging or email packagingdoctor@kitepackaging.co.uk