Are plastic pallets good?
Our range of plastic pallets offer a durable, lightweight and cheap alternative to wooden pallets. Despite being lower cost than traditional timber pallets, these products are made to be very long-lasting with greater dynamic capacity on an evenly spread load. This offers the best of both worlds with no compromise on functionality or cost-effectivity. The heavy duty plastic pallets are also adept at saving storage space by being stackable and nestable. This makes return trips more practical, enhancing the reusability and environmental awareness of the product range. The low unladen weight of plastic pallets considerably decreases transportation and handling costs to compound the saving already made on the unit price when compared to wooden pallets. However, the essential requirements are retained including the classic 4-way entry design. This structure enables easy forklift or pallet truck entry from all four sides of the pallet.
Yet, the rounded corners of our range of plastic pallets offer a safety and packaging advantage. Shrink wrap or pallet wrap is easier to apply onto a product without sharp edges and the pallets will generally be easier and safer to handle. Similarly, the plastic pallets enjoy a higher degree of hygiene since they are easy to clean and do not generate debris or splinters.
Are plastic pallets eco-friendly?
The strong polymer construction is made from 100% recycled content. Therefore, by purchasing from this product range you can rest assured that you are not introducing any new virgin plastics into the environment while supporting a circular economy. The manufacture is sustainable and the standard HDPE is also widely recyclable after use. Moreover, the durability of the pallets encourages frequent reuse which further integrates sustainable practices into the daily running of businesses and the overall supply chain.
What sizes do plastic pallets come in?
At Kite, our range of plastic pallets include Half Europa, Full Europa and Extra Large sizes. The exact dimensions of these sizes can be found in our product table alongside their relative dynamic capacities. This latter specification is based on an evenly spread load.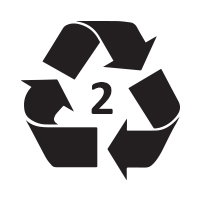 Click here for our recycling guide


Video:
The benefits of stackable plastic pallets
Plastic pallets from Kite Packaging are more hygienic than timber pallets and are lightweight and easily stackable. See how they compare to standard pallets.
Our plastic pallets are reusable, long lasting & durable.
They are lightweight and easily stackable, saving storage space.
They are designed to be easily accessible with 4 way entry for forklifts or pallet trucks.
No more broken wooden pallets!