Plastic pallet boxes
Created as an end-to-end transit system, the unique half UK pallet size plastic pallet box is the only stackable and nestable product of its size. When the units are not being used and are nested, the lids lie flat against the sides of the box securing in a vertical line, this means no lid overhang. When in use 6 boxes standing 3 high can be stacked and secured as one unit.
Eliminating the need for pallets, the patented design provides the perfect balance of carrying capacity and easy handling. It is designed to be lifted directly with the appropriate machinery, such as forklifts, pump trucks or the specially designed plastic pallet box lifter. The plastic pallet box can be used as an individual bulk storage container, but is even more efficient as an end-to-end transit system, as opposed to your usual pallet load of boxes. The plastic pallet boxes can then be stacked and secured with the plastic pallet lid.
Due to its design the plastic pallet box can be used over and over, eliminating packaging waste. The bulk container provides large volume to handle a range of goods, making it ideal for a wide range of products individually or as a system with the plastic pallet lids.
Individual plastic pallet boxes are ideal for bulk movement of product and work perfectly as a completely secure transit system once stacked on top of each other and secured with a plastic pallet lid. Once secured up to 6 plastic pallet boxes can be moved as one unit and double stacked with no need for pallets.
Heavy duty plastic pallet box
These one-piece HDPE injection-moulded boxes have robust runner connections which increase their lifetime and hygiene whilst facilitating ideal running on conveyors. They offer space-saving transportation as when empty they can be stacked on top of each other, allowing for great space optimisation on the road and in storage. They are particularly popular in the food industry if teamed with an inner polythene liner. With their smooth interior walls and re-usable plastic composition they make cleaning and drying easy. Also included on the boxes are labelling fields for individualised personalisation and ram protection for increased resilience against forklift tines. These pallet boxes are an effective alternative for Dolav boxes and can safeguard a huge variety of heavy goods.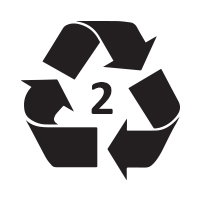 Click here for our recycling guide