How To Package Homemade Chocolate Bars – The Packaging Doctor
The Surgery Is Now Open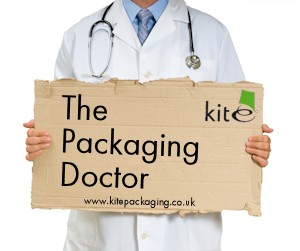 Hi Doctor,
I have recently started a small business selling chocolate bars, I work from home and although I love making chocolate I know nothing about packaging! What would you suggest is the best way to package small bars of customised chocolate? I want them to look professional, however because my business operates from home I would like to implement a packaging system that will make different sized bags without taking up lots of room and is cost effective.
Thanks, Charles
Hi Charles,
I think the best thing for you to purchase to start an efficient but space-saving packing operation would be a heat sealer and lay-flat tubing. A basic heat sealer with built-in cutters would be more than adequate for your business, as it allows you to cut the lay flat tubing to different sizes, creating custom-sized polythene bags which can be sealed using the heat sealer to give a professional finish. The lay flat polythene tubing is available in three different gauges; I would recommend medium duty (250 gauge/62.5 micron) tubing for your chocolate bars, as they are best suited to small items.
To finish the packaging off for a more professional image, without having to purchase bespoke product, why not try custom printed tape? Simply upload your artwork (company logo, image) on to the website and we will produce tape bespoke to your business. You can then apply this directly on to the bags. Pop in to a small mailer and your product can be sent directly with Royal Mail (no need for costly courier services!).
You can purchase all these products from the Kite Packaging website, and feel free to call us if you have any further questions. Good luck with your business Charles, and feel free to send me a chocolate bar or two anytime!
Best Wishes, The Packaging Doctor

Note: All the packaging problems our doctor receives are real queries from customers or non-customers.
If you have a packaging problem that needs diagnosing
get in touch on Twitter @kitepackaging
or email packagingdoctor@kitepackaging.co.uk