Mesh Sleeving
The Tenax protective tubular mesh netting offers premium protection for your goods.
Mesh sleeving is a simple way to provide protection for cylindrical and awkward shaped items throughout a number of industries. Plastic sleeving is often used to protect the legs of furniture such as tables, desks and chairs whilst in transit, whilst mesh netting is used to protect both metal and ceramic items such as door furniture and kitchen fittings from sustaining chips, scratches and scrapes during both transportation and installation. Resistant to oil and grease, protective sleeving mesh is often used to protect components and machined parts.
Plastic mesh sleeves are easy to apply and can be used again and again.
The particular rhomboidal mesh of these nets allows them to hug around the irregular shaped objects such as corners and curves. In this way, maximum protection during transportation and storage is achieved. These nets, characterised by their low cost and speed of application, are ideal for use in the engineering industry.
They can be adapted to specific requests for different colours, mesh apertures, weights and dimensions. They are supplied in easily dispensed rolls. Our flexible mesh can be used for protecting glass (including bottles for which it is especially suited), ceramics, engineering parts and a whole host of products during manufacture, assembly and shipping. Manufactured from polyethylene, Tenax netting is resistant to both oil and grease.
Widths shown in the table above indicate the minimum (un-stretched) and maximum (fully stretched) dimensions.
Only available on a 5-7 working day delivery
This product has a lead time, and can only be purchased on a 5-7 working day delivery. If you add this product to your shopping cart, the options for next working day and Saturday deliveries will automatically be disabled.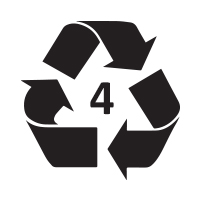 Click here for our recycling guide