What is a gusset bag?
These gusseted polythene bags are defined by their 3-dimensional design that allows them to snugly fit within cardboard boxes or other containers. They feature wide side gussets of dimensions specified in the product table that open up to form the shape of a container. This unique structure allows them to securely line boxes with a strong waterproof layer. The inner protection is provided by placing the bag into a cardboard box, shipping box or crate, placing it over the edges to prevent movement of the lining and filling as necessary.
Manufactured from a strong blend of 50 micron polythene, these blue tint bags are suitable for relatively heavy duty purposes. Due to the high strength blend, they can be made thinner and lighter while exhibiting the same performance as thicker, regular polythene.
What is a gusset bag used for?
The waterproof quality of these bags equips them for use within agricultural, mechanical and food sectors. Food produce likely to leak oil or moisture can be cleanly stored or transported within a blue tint polybag. The gusset feature doesn't restrict the size of the usable space, enabling you to maximise the capacity of the outer container. Moreover, the bags can be scrunched down or tied up to seal boxes, as demonstrated in the video to prevent. This is useful when transporting food as maintaining optimal hygiene is of critical importance and fastening the liners will prevent any means of contamination.
What is the largest size of gusset bag?
Our largest version is 1,220 x 2,350mm and can fit into our heavy duty plastic pallet boxes. In total, we supply five sizes to cater toward most common applications, all of which are 50 micron LDPE. The gusseted polythene bags arrive flat packed and take up a minimal amount of space due to their thin composition and very light weight. These qualities also minimise postal costs should the gusseted bags be used during shipping.
We provide generous wholesale discounts for bulk orders to further drive down outgoing costs. Overall, blue tint liners are highly economic methods of keeping meat and fish clean.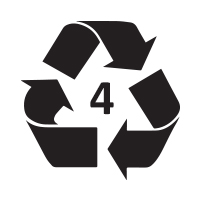 Click here for our recycling guide
Video:
Blue tint gusseted bags
How to use our blue tint gusseted bags
Our blue tint box liners are made from strong 50 micron polythene. Each size is gusseted to perfectly line the inside of a box. The liners can be used in many ways and in many different industries. Simply slip the bag round the corners of a carton which allows items to be easily placed inside. These liners can be used to ship industrial products as well as meat, fish and other foods.