Oversized bags
Available in both light duty and heavy duty to suit different applications and a wide range of large items such as pallets, furniture and any other item that will fit within the dimensions. The light duty option is ideal to protect items in storage against elements such as dust and moisture whereas the heavy duty range is more robust protection against extreme weather conditions, scrapes, scratches and dirt. Use our heavy duty bags as a thick protective sheet, or heat shrink them using our pallet heat shrink guns.
Available in either gusseted or centre fold:
When a gusseted bag is fully opened it offers more of an even shape so that it fits better to items such as pallets with even sides, mattresses, units and so on.
A centre folded bag is suitable for items that don't have even corners or sides such as sofas therefore offering more flexibility for irregular shaped loads.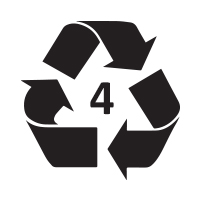 Click here for our recycling guide