What is an oversized bag?
Made from light or heavy duty polythene, these bags are made in very large sizes to cover a range of substantial objects that would be too big for most other protective coverings. At Kite, we supply a broad selection of different sizes and thicknesses, gusseted styles or centre folded versions to suit these extraordinary requirements. This expansive range is designed to cater toward almost all items that exceed regular packaging dimensions. A gusseted bag is defined by its expandable sides that create a cube-like shape when fully opened. A centre folded bag, on the other hand, has a simple centre fold seam on both sides, making the structure considerably less rigid and better suited to irregularly shaped objects
What is an oversized bag used for?
The gusseted variety is ideally suited to large objects with even sides such as mattresses, pallets or other items with a cuboid type structure. The centre folded bag is well adapted to less regular shapes that may not have even corners or sides. For example, sofas and other furniture items will require a flexible covering such as a centre folded polythene bag.
Once situated over your intended product, the light duty oversized bags are excellent for protecting items from dust and moisture, particularly whilst in storage. The heavy duty bags offer more robust resistance against extreme temperatures, scrapes and scratches, acting as a thick protective sheet. For a tight and secure fit, a pallet heat shrink gun can be used so that the plastic clings to the object it covers. This conserves space and ensures a more snug fit to better guard against damage or contamination.
Are polythene bags recyclable?
This industrial packaging is made from standard LDPE which is recyclable in many localities. Take a look at our recycling guide to see how it compares to other types of plastic in terms of ease of recyclability. It is important to use the size and thickness that best suits your needs, balancing strength with sustainability by conserving material wherever possible. If you're unsure what size and thickness might be best for your purposes, do not hesitate to get in touch with our expert product team who will be more than happy to help you.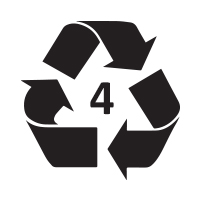 Click here for our recycling guide