What is a polythene mailing bag?
Our white mailing envelopes are manufactured from 40 micron virgin material for lightweight strength. Kite supply these in sizes that comply with Royal Mail guidelines, allowing you to accurately calculate your postage and packing costs. A self-seal flap is included to streamline the packing process, removing the need for a separate tape application. This seal is fast and secure, complemented by the effective weatherproof composition to capably protect the contents from water damage which may otherwise occur during transit. To further ensure safety, the material is 100% opaque so that the items will not be visible through the white mailing bags. Please be aware that the shade of white may vary from images.
Is a standard mailing bag eco-friendly?
Kite's white postal packaging bags are standard LDPE which is recyclable in many areas. Furthermore, this form of plastic can be manufactured to be very thin while boasting impressive strength, hence using very little material to successfully transport a variety of objects. Similarly, by being lightweight, postal vehicle space can be conserved, enabling more packages to be delivered in one journey, thus minimising the overall carbon footprint. This waterproof mailing carrier combines practicality with elements demonstrating environmental awareness.
What are white postal pouches used for?
Highly popular for an assortment of small objects, these polythene envelopes are a universal packaging product on account of their versatility. They specialise in transporting items that are already boxed in primary packaging but require secure outer packaging to easily attach a label with delivery information. Larger sizes are ideal for clothing that does not need extensive protection, in addition to items such as literature and textiles. Thanks to their flat-pack construction, our standard mailing bags take up very small areas of space. As a result, it is convenient for even tight warehouse spaces to carry high quantities of this packaging in a variety of sizes to suit the differing products they may ship out to their customers.
Use these bags along with our range of multi-purpose labels.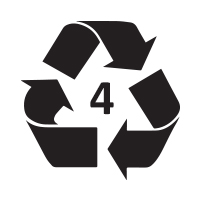 Click here for our recycling guide
Video:
White mailing bags
Watch a demonstration on our white mailing bags and how they can be used.
Our white polythene mailing bags are the perfect solution for a range of postal requirements. All sizes are manufactured from 40 micron recyclable virgin material.
Each size features an easy peel-&-seal strip to securely pack goods inside the bag. They are white in colour and 100% opaque so items will not be visible through them.